R&D network
Rooted in our origins, innovative thinking has been a strategic focus and a strong competitive advantage for EssilorLuxottica. Today, we operate a global network of over 50 R&D facilities with our global community of approximately 1,000 researchers as well as thousands of experienced engineers and designers committed to making EssilorLuxottica a laboratory for med-tech, innovation and growth. Our R&D initiatives are centered on four main initiatives: vision care, eyewear design and technological innovation, smart eyewear and sun lenses.
Manufacturing network
Our production plants produce lenses that are finished, semi-finished and plano. We also have specific expertise in developing and manufacturing a wide range of plano and prescription sun lenses performing a key role in the Group's sun lens operations. Overseeing every aspect of our lens business across all stages of the value chain, from design and engineering to store delivery, our goal is to provide consumers everywhere in the world with the best visual experience. Today, we have 36 corrective and plano lens mass production plants and 14 eyewear mass production plants.
Global eyecare network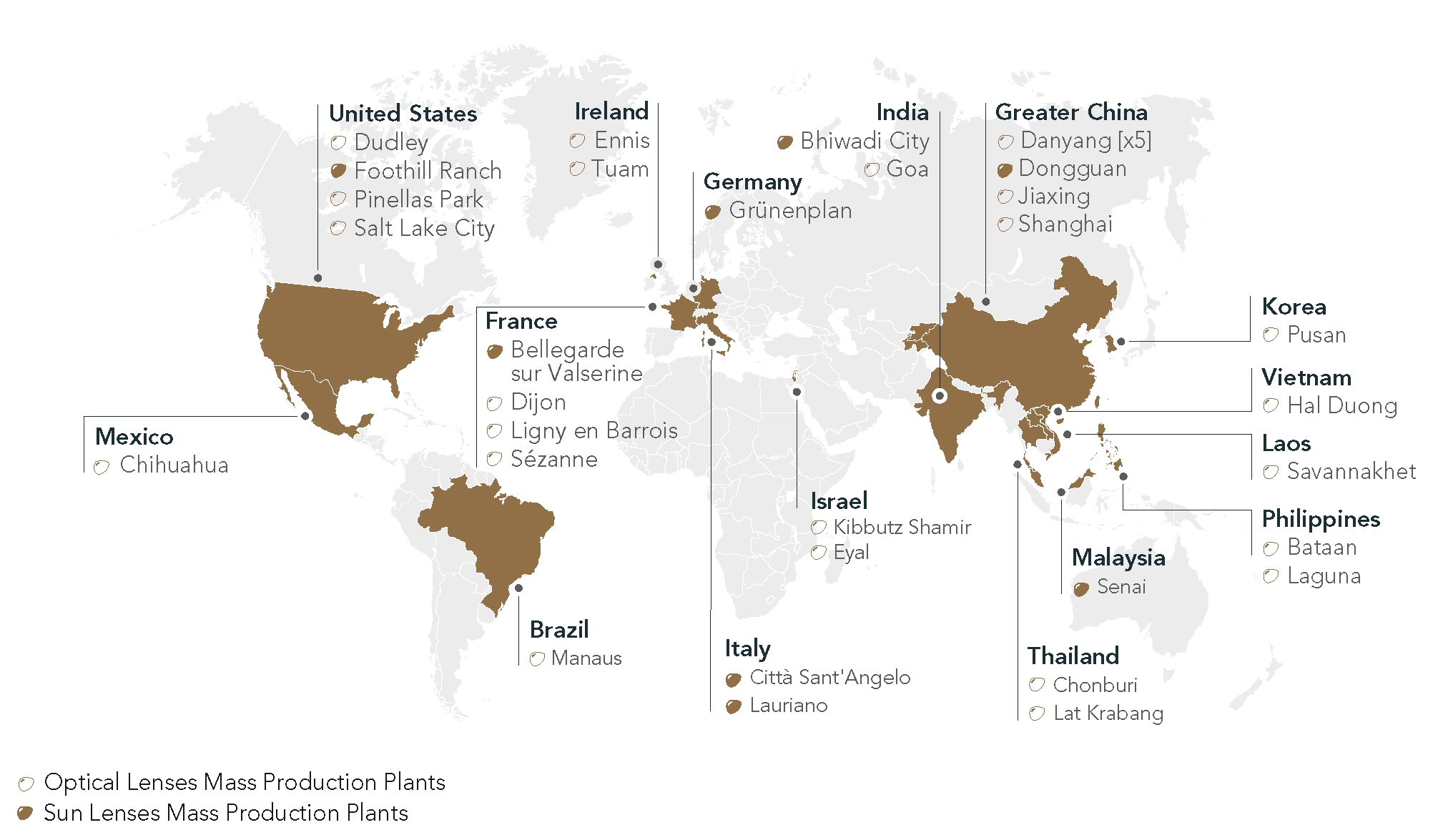 Global eyewear network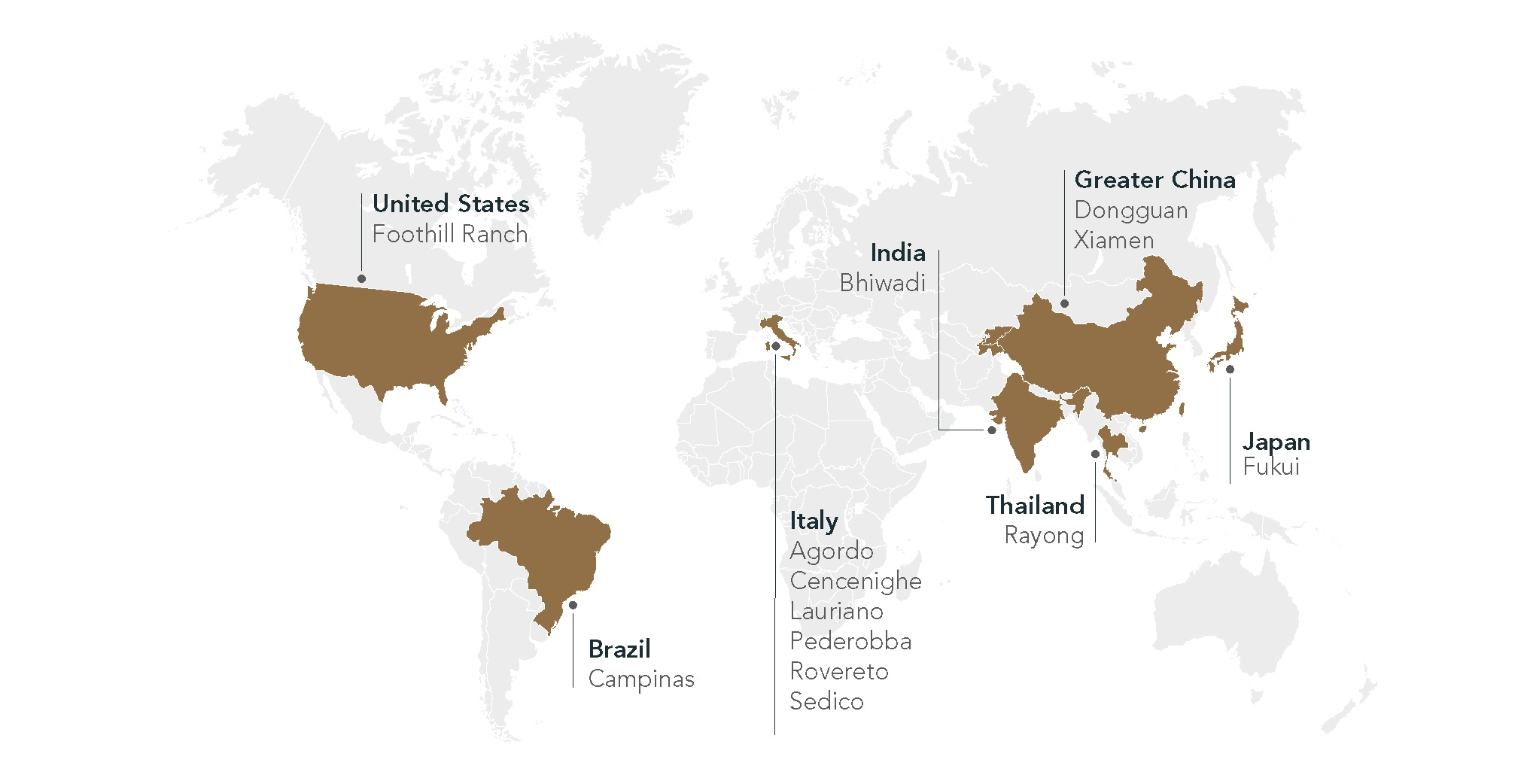 Our manufacturing network is complemented by our prescription laboratories. Leveraging a full range of cutting-edge equipment and technologies, the prescription laboratories handle surfacing, polishing, coatings (multilayer and antireflective) and frame integration for the edging and mounting process. This creates a vital link between our production plants and eyecare professionals who place orders for personalized lenses. This level of customization helps address large-scale correction combinations. Today we have 614 prescription laboratories and edging-mounting facilities
Distribution
Logistics represents an asset of capacity and expertise for us to provide excellent service and distribution coverage for all our products. We have a global network of 57 distribution centers for lenses, eyewear and contact lenses. For lens distribution, our supply chain covers all products and lens flows across the world, from production plants to central logistics hubs and prescription labs through to brick-and-mortar locations. For eyewear distribution, our global network also includes distribution centers in key markets, with some related to the readers business only.
Direct-to-Consumer
With leading global optical retailer GrandVision now part of our Group, we expanded our direct-to-consumer footprint in Europe, the Middle East and Africa, and strengthened our reach in Latin America. This further consolidated our presence in eyecare and eyewear on a global scale, giving us an opportunity to engage more effectively with our consumers. With a strong portfolio of retail brands, we are well positioned to serve consumers around the world with the latest designer and high-performance frames, advanced lens technologies, innovative eyecare, everyday value and high-quality vision care health benefits. Today, our direct-to-consumer business consists of 13,383 stores and 4,304 franchised locations.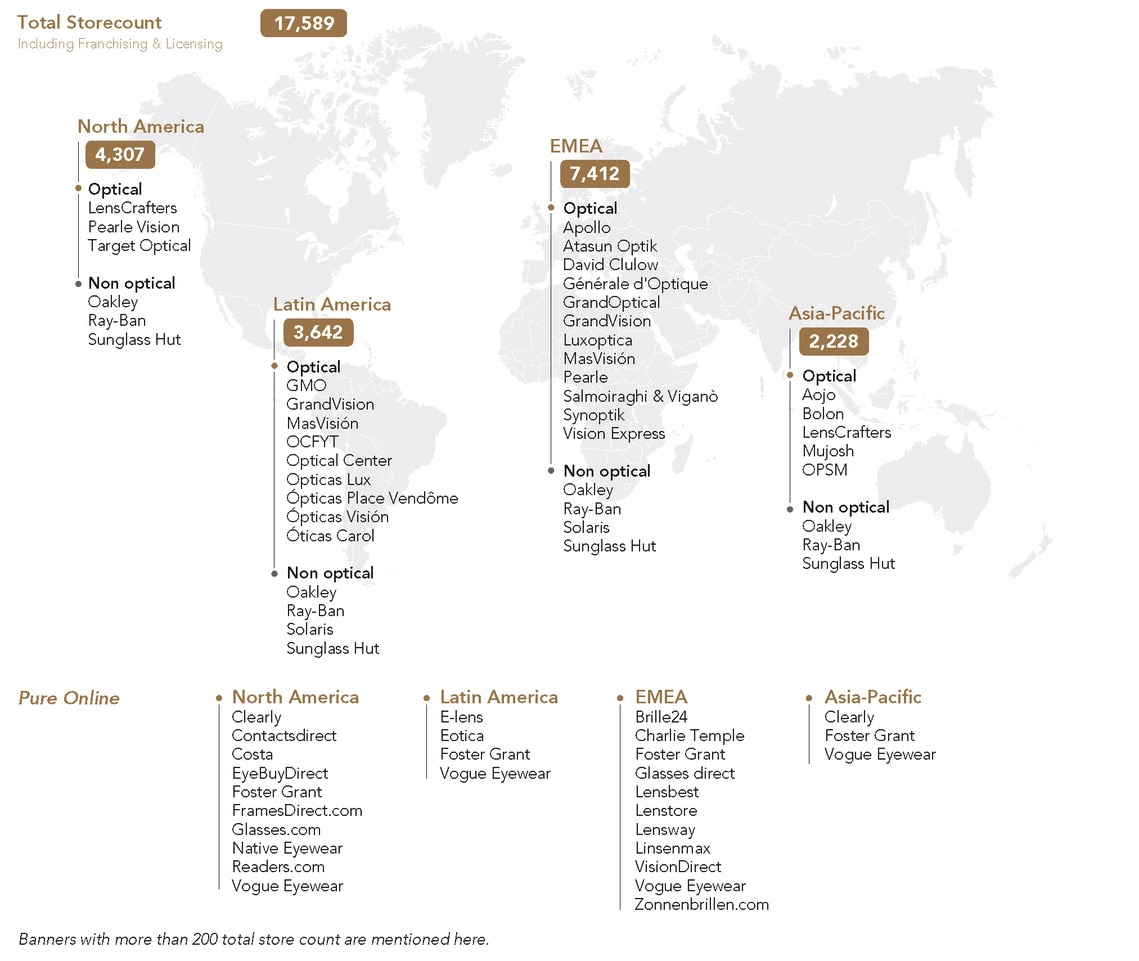 We also offer consumers around the world a premium online shopping experience. Fueled by the pandemic-induced digital shift, our 200 e‑commerce platforms currently serve as important sales channels to complement our Professional Solutions and brick-and-mortar stores. For an enhanced omnichannel end-user experience and a seamless journey across all touch points, we focus on innovations such as artificial intelligence and augmented reality. As part of our online shopping experience, our consumers also have access to premium online services and advanced online appointment booking systems.