In support of its ambition to help eliminate poor vision worldwide by 2050, EssilorLuxottica is working to advance eye health goals in China by driving awareness, offering innovative myopia solutions and supporting sustainable development.
With an ageing population and high prevalence of myopia in children, poor vision problems in China are often complicated by limited access to eyecare professionals and lack of awareness.
This is why EssilorLuxottica remains dedicated to offering support for the country's local communities, in line with its 'Eyes on World Sight' commitment, which is part of its company-wide Corporate Social Responsibility (CSR) program "Eyes on the Planet".
To raise awareness of the importance of good vision, present myopia solutions and promote industry development, EssilorLuxottica recently attended two important events in China.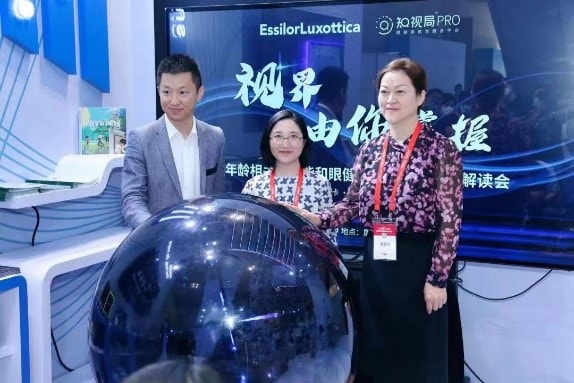 Vision China 2022: Making strides for China's 14th Five-Year Plan on Eye Health
Participating in the forum for the first time as a unified Company, EssilorLuxottica attended Vision China 2022 to call attention to the need to protect the entire vision health life-cycle – with specific focus on children and the elderly – to help achieve goals outlined in China's 14th Five-Year Plan (2021-2025) on National Eye Health.
The Group exhibited a full range of innovative myopia management solutions, including: Essilor Stellest lenses, a new generation of spectacle lens solutions in the fight against myopia; CRT 5.0 optical zone ortho-k lens from its partner CooperVision; CooperVision MiSight 1 Day Soft Contact Lens – for which EssilorLuxottica is the exclusive distributor in mainland China – currently the world's first and only contact lens approved by the US Food and Drug Administration (FDA) to slow the progression of myopia in children between the ages of 8 and 12 years old for initial wear; and Nikon's Diffusion Optics Technology lenses, a new generation of ophthalmic lenses for myopes that launched in China this June
During the event, EssilorLuxottica hosted academic seminars attended by leading experts as well as interactive games for scientific education. The Group also joined the Asia Optometric Management Academy and eye health education and service platform EYEQ PRO to promote the six phases in a standard consumer journey with the aim of enhancing the professional service capabilities of local optometrists.
EssilorLuxottica also presented the "White Paper on Age-Related Eye Health" with the Optometry Group of the Chinese Medical Association's Ophthalmology Branch to highlight the importance of early screening and management of vision health problems.
Global CSR Summit: EssilorLuxottica Honored with "SDGs Outstanding Contribution Enterprise Award for Public Health"
Supporting the importance of eye health in the context of achieving sustainable development goals, EssilorLuxottica was recognized with a "SDGs Outstanding Contribution Enterprise Award for Public Health" at the sixth annual Global CSR Summit in Beijing for its continuous efforts, especially in the field of vision health for youth linked to sustainable development.
Selected from nearly 100 candidates, the award recognizes the Group's expertise and achievements in fulfilling its corporate social responsibilities.
To underscore the importance of implementing sustainable business policies that support good vision as part of its corporate brand influence strategy, a keynote speech on the topic of "Implementing Sustainable Development Goals and Enhancing the International Impact of Brands" was delivered by Dr. Lu Jianzhong, President of General Affairs of EssilorLuxottica Greater China.
Supported by the United Nations Institute for Sustainable Development Management, the Global CSR Summit is jointly directed by the Global CSR Foundation and the Beijing Rongzhi CSR Institute.