The Group achieves a score of s 94 out of 100 on the 2023 gender equality index* in France.
The Group took part in the "Gender Equality Index" ("Index de l'Egalité professionnelle") – an initiative of the French Government created in 2018 to measure gender equality and improving transparency – which establishes the gender equality index for its employees in France.
The Gender Equality Index requires companies with 50 or more employees to calculate their professional gender score by 1 March of every year based on the following 5 indicators: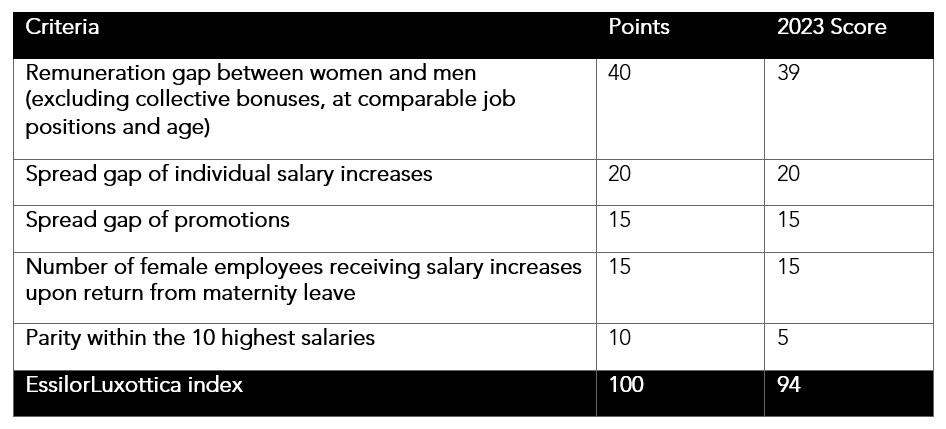 Based on the above indicators as defined by the French government, EssilorLuxottica achieved a score of 94 points for the year 2022.

This score demonstrates EssilorLuxottica's ongoing commitment to gender equality in France. It also reflects the Company's concrete initiatives to encourage equality between women and men with regards to their careers and remuneration, and in the promotion of work-life balance.
To take its commitment further, in October 2022, EssilorLuxottica set up a Global DE&I function to establish the Company's strategy and goals for Diversity, Equity and Inclusion. Looking ahead, the function will focus on driving internal and external awareness, building and evolving more inclusive processes, developing clear goals and ensuring diversity of thought.
The representation of women within the Group is also increasing:
In application of the Rixain law, currently being implemented in France since 2022 to increase access for women to positions of high responsibility by establishing quotas, the Group is also publishing its figures for the full year 2022:
61% of women in the overall staff worldwide
41% of women among the management bodies
33% of women among senior executives
*Index based on Essilor International's perimeter